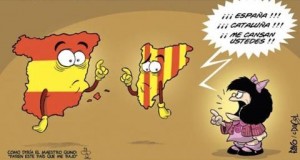 The great fallacy of the "right to decide" and the hypocrisy of A. Mas
We all know that in real life, the "right to decide" does not exist universally or at the individual level. Why not we can 'buy the bike' that wants us to sell Artur Mas and its allies, whose only strategy is intended to hide his decision already taken (independence) and that it only seeks to legitimize.
Let's see: One does not decide to birth, or where, or who are their parents, or siblings, nor is their mother tongue. Not even choose their natural children (only decides whether or not to have them).
Even in the purest democracy, which is the only system that respected the "right to decide", as only individual can decide to leave your country if you don't like it, but you can not always decide freely where to go, or to laws must obey… As a collective, are decided in an indirect way just a few things, or is chosen for a few years to those who decide for you or by the collective. But after voting, already can not choose that laws like and which are not. You must obey all applicable laws (which paradoxically, more and his own claim to and manifest that they won't do)…
Contrary to what cry more, democracy is not the right to decide it all. You can't declare yourself independent, or declare your House to belong to another State. A street cannot be separated from their city, or this region, nor is their country. Or decide the neighbors charge a toll to pass through the street… Although thus vote it all members of any of these groups, this would not be a democratic decision, because few would violate rights of others affected which are not consulted (as with all Spaniards, in the case of Catalonia)…
The inquiry that more and his people want to sell to his people, it is misleading and impossible if not will change the laws already approved in the Congress of the nation, which represents to TODO EL PUEBLO ESPAÑOL…If it weren't so why are not consulted for example, only to Girona if you decide Gerona Catalonia independent or join France?… All this Assembly makes it more only in their own benefit and to blackmail the Central Government and all Spaniards and get more you indulgences for his party and Government…
Secession in Spain would only be legal and possible if the Constitution is changed. Is not comparable to the cases of artificial countries (as Yugoslavia) that have also paid a high price in the form of a terrible civil war and genocide… is that what they want most? Eye: That already became the first Republic with the cantons…
If the Catalans want true independence, acting within the Constitution, proposing its change consensus like this making Scotland (despite having been independent country over a thousand years, and have given up being it). The current initiative of is just a smokescreen that hides the serious damage that this illegal proposal would cause both the Catalans and to all SPANIARDS.
The Catalans must know that in Europe there are several powerful countries that never would allow a precedent as well, since in their midst there are regions with similar aspirations: Brittany and Corsica in France, Lombardy in Italy, Bavaria in Germany, etc… The illegal Catalonia would be excluded forever from Europe, and Spain would lose weight in the union. Catalonia is not Kosovo, Serbia or Spain. And that should not hide it to no one, nor the Catalans are so innocent as to believe what their irresponsible political say. This is not a game
It is the obligation of the Government of Spain stop him to Mas and company by all means, as it was already done with another irresponsible – Ibarretxe. There are legal means for that. The State of the autonomies is already in fact a Federal State. Only the Federation can decide its division, not the parts.
We are in the 21st century and the world tends to come together to get more benefits in all areas (health, education, economy, social justice, science, human rights etc.). It is shown that United is achieved rather than separated. This should ponder the Catalans who are intelligent and Bon Seny: which path will take you to a better quality of life, or is that you want to return to the days of Ramón Balaguer?