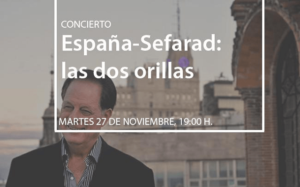 Ron talks about his musical activity
THE INTERVIEW – Ron Gidron presents his songs in a live performance, for the first time on Tuesday, November 27, 2018 at 7:00 pm at the Sefarad Israel Center. Ron was born in Eretz Israel in 1946 (in his passport it shows as Palestine, then e British mandate), and he lives in Spain since 1960, to where the family moved due to his fathers' business. Ron graduated in engineering in Cornell University, NY USA in 1969.
And what about music? Since childhood, Ron has been to many concerts, then played some piano, but only when, at the age of 50, his eldest son started taking Spanish guitar lessons, Ron decided to join them as well. Sometime later, suddenly, the inspiration begins to sprout, composing more than 250 songs since then, available as recorded CDs, but never before presented live as it will do it in this occasion.
This is the link to the interview (in Spanish)
https://www.youtube.com/channel/UCTNG_3DrZmpjK-1tI_05o6w/videos